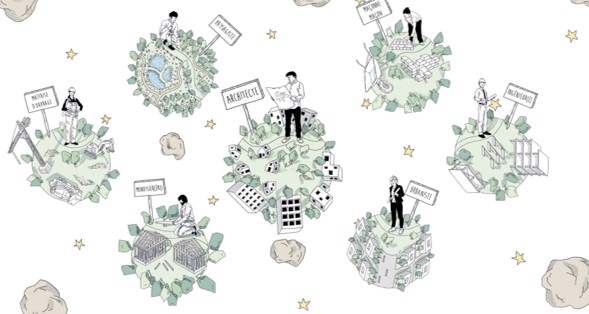 Le 30.09.22
A Unisson(s) documentary to move together towards low-carbon and living things architecture
Maud Caubet and Les Grandes Idées are delighted to have presented the teaser of the documentary Unisson(s) during the SIBCA last Friday. Many thanks to Unisson(s) team for their trust.
The Unisson(s) movement, bringing together the players of design, building, planning and landscape, explores solutions and ideas for a renewed architectural writing, a low carbon architecture, an architecture of the living. Its objective: to accelerate the reform of practices and together inspire a new imagination.
Feel free to join the movement by signing the manifesto: https://bit.ly/3SGNJzq
Directed by Maud Caubet, directing and producing, Les Grandes Idées, on the script, Olivier Sabatier, filmmaker, Félix Roudier and Victor Dussap, illustrators and YOTTA, post-producer, the documentary is part of the itinerant system of debates and design thinking workshops of the Unisson(s) movement.
See you on November 16th at the Maison de l'architecture Île-de-France for the broadcast of the documentary in full version during the first event of the movement!